Apple Inc. is preparing to release a trio of new smartphones later this year: the largest iPhone ever, an upgraded handset the same size as the current iPhone X and a less expensive model with some of the flagship phone's key features.
With the new lineup, Apple wants to appeal to the growing number of consumers who crave the multitasking attributes of so-called phablets while also catering to those looking for a more affordable version of the iPhone X, according to people familiar with the products.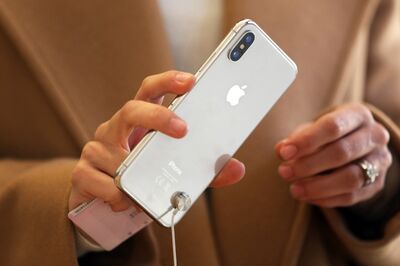 Photographer: Luke MacGregor/Bloomberg
Apple, which is already running production tests with suppliers, is expected to announce the new phones this fall. The plans could still change, say the people, who requested anonymity to discuss internal planning.
 Despite months of breathless hype, the iPhone X hasn't sold as well as expected since its debut last year. Apple sold 77.3 million iPhones in the final quarter of 2017, below analysts' projections of 80.2 million units. Some consumers were turned off by the iPhone X's $1,000 price despite liking the design even as they wanted something more cutting-edge than the cheaper iPhone 8. With its next lineup, Apple is seeking to rekindle sales by offering a model for everyone.
 "This is a big deal," says Gene Munster, a co-founder of Loup Ventures and a long-time Apple watcher. "When you have a measurable upgrade in screen size, people go to update their phone in droves. We saw that with the iPhone 6, and we think this is setting up to be a similar step up in growth."
Munster predicts a supercycle — which he defines as upgrades by 10 percent or more of Apple's existing iPhone customers. "The market that will see the biggest jump in sales is likely Asia," he says. "That market has many single-device consumers, and they love big phones."